Bolt-on Tooth Bar for Skid Steer Buckets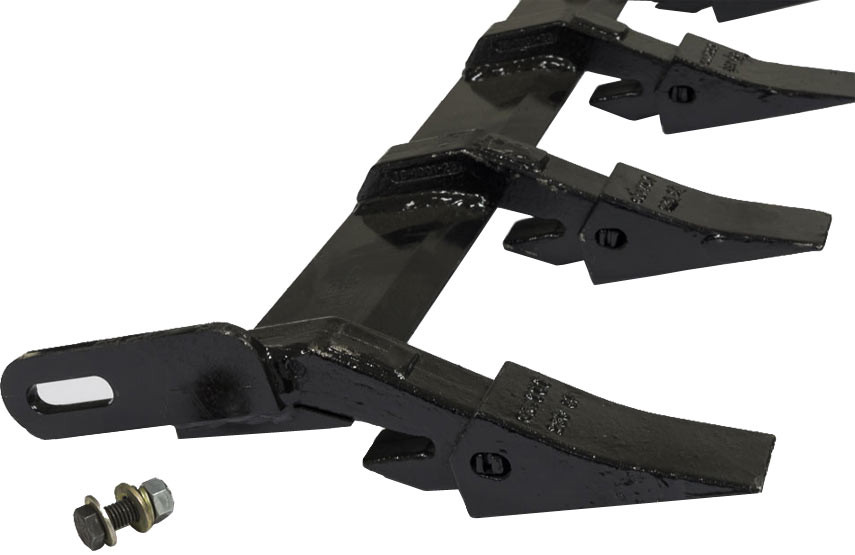 Availability:
limited quantity available
Questions?Call 866-315-3134 - Se Hable Espanol
Consumer financing:
Business financing:
DETAILS
**When ordering a Bolt on Tooth Bar for other manufacturers buckets, you MUST let us know the inside dimension of the bucket at the narrowest point! (6" - 8" behind the leading edge)

At checkout please let us know what this measurement is in the comment section.

The bolt-on tooth bar bucket attachment will make any skid steer bucket more effective for digging or scooping material. The bolt-on design makes the tooth bar easy to attach and take off while still keeping the bar firmly in place while in use. A heavy duty shank is used to anchor each replaceable tooth on the bar, held onto the shank using an easy to use flex pin. The tooth bar also has a built in adjustment to pull the teeth snug on the edge, even as the blade wears out.
|   | WEIGHT | TEETH (QTY) |
| --- | --- | --- |
| 00-59" Bolt On Tooth Bar | <79 LBS | 6 |
| 60-63" Bolt On Tooth Bar | 80-85 LBS | 7 |
| 64-70" Bolt On Tooth Bar | 86-94 LBS | 7 |
| 71-75" Bolt On Tooth Bar | 95-101 LBS | 7 |
| 76-80" Bolt On Tooth Bar | 102-108 LBS | 8 |
| 81-84" Bolt On Tooth Bar | 109-114 LBS | 8 |
| 85-96" Bolt On Tooth Bar | 115-125 LBS | 10 |
Skid Steer Tooth Bar
Turn your skid steer bucket into a dirt digging machine with a tooth bar bucket attachment from Skidsteers.com. Each tooth bar is built to the specifications of your bucket. Simply measure the inside dimension of your bucket 6-8 inches from the leading edge. The bolt on tooth bar is easy to install and remove from your bucket. The design of the tooth bar lets you easily snug the teeth tightly against your cutting edge. Have a smaller mini style bucket, no problem, we got you covered there too with the Bolt-on Mini Tooth Bar Bucket Attachment. For questions about measuring or fitting the tooth bar attachment please call customer service.
features
HD shank fabricated with replaceable #23 teeth
Fits over weld-on cutting edge - up to 3/4" thick
Made in the USA
You just added this product to your cart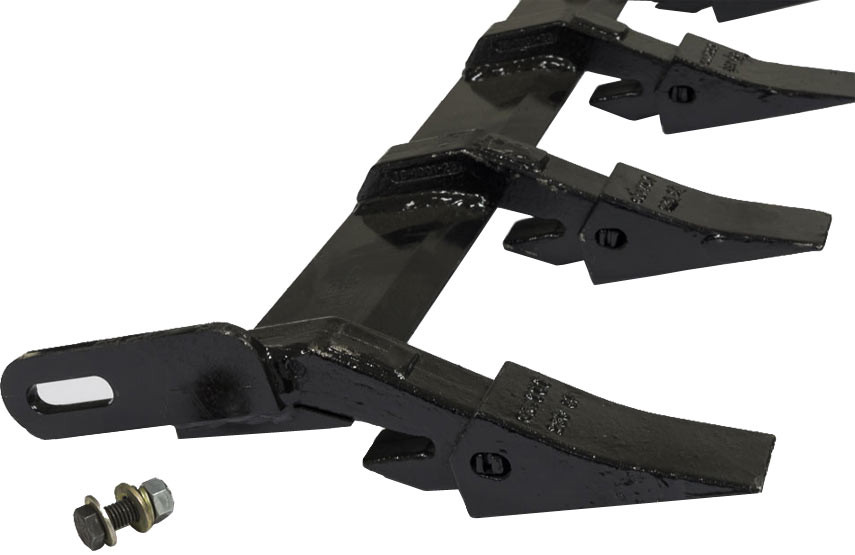 Bolt-on Tooth Bar for Skid Steer Buckets
Quantity:
Price:
Total: