Weld-On Manual Excavator Thumb | Blue Diamond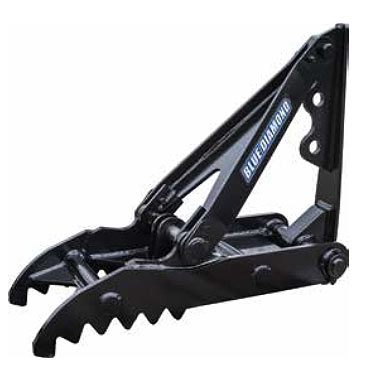 Product ID:
BD-EX-MNL-THMB
Availability:
limited quantity available
LIMITED TIME FREE SHIPPING!
5% discount applied.
Sale ends October 31, 2021
Questions?Call 866-315-3134 - Se Hable Espanol
Consumer financing:
Business financing:
DETAILS
The Blue Diamond® Mechanical Thumbs are available in a wide variety of sizes to meet any demand. The back plate welds onto your excavator's dipper stick and has multiple positions for the stiff arm to give you the best grip on whatever material you are working with. When not in use, the stiff arm or cylinder can be removed and the claw will sit against the dipper stick out of the way.
MODEL /
DIMENSIONS
8″x28″
8″x35″
12″x35″
12″x40″
18″x48″
18″x52″
26″x58″
32″x70"
36″x63″
CLASS
(TON)
3-4
4-6
5-7
7-9
12-15
18-20
20-25
20-30
30-40
WEIGHT
(LBS)
150
160
315
340
600
920
1,020
1,450
1,800
WELD ON
PLATE WIDTH
4 1/2"
4 1/2"
4 3/4"
4 3/4"
7 9/16"
9 1/4"
9 1/2"
9 1/4"
10 5/8"
NOTE: This chart is for manual models and is intended as a guide only. Due to the many differences in machines and accessories, it is the customer's responsibility to choose the right size of thumb for their application. Typically, the length of the thumb must meet or exceed the measurement from the tip of the bucket teeth to the bucket pivot point.
features
Welds onto any excavator
Multiple positioning for best angle to grab
Stiff arm can be removed to store claw flat against the dipper stick
Does not require any OEM mounting brackets
Made in the USA
1 year warranty
You just added this product to your cart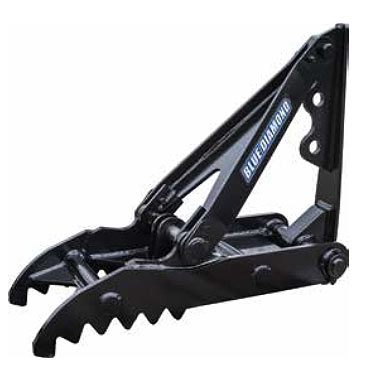 Weld-On Manual Excavator Thumb | Blue Diamond
Quantity:
Price:
Total: