Mini Skid Steer Brush Cutters
Mini skid steers are machines that allow you to work in smaller confined spaces. The attachments available are growing exponentially. The Brush cutter attachment with a 1/4" deck is built to rival the robustness of the larger heavy duty models. Engineered to be very
effective with the lower GPM hydraulic systems of the mini loaders. The Bi-directional blades give the operator the option of doing the heavier cutting first and then reversing the blade direction to give it a more finished look, perfect for grooming trails.
SAVE 10 %
SAVE 10 %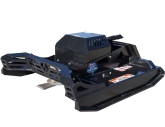 Mini Skid Steer Brush Cutter
Turn your mini skid steer into vegetation eating, brush busting, lawn mowing machine with the Mini Skid Loader Brush Cutter attachment from SkidSteers.com. This dual blade machine is specifically designed to work with low flow skid steers such as a mini. The bi-directional blades wear on both sides giving lasting life before sharpening or replacement. This attachment is available in 2 different models. Choose from either 36-inch width model or the 48-inch model. The direct drive system has the torque to cut through dense vegetation with ease. The 1/4 inch all steel deck and chain curtains give you the safety you need from flying debris. This made in the USA attachment comes with free shipping and a full 1-year warranty.