Skid Steer Stump Grinders
Use your skid steer to grind down stubborn stumps with either our heavy duty or extreme duty stump grinders. Each is available in either low flow or high flow options.
Having the ability to grind stumps using your skid loader allows you to grind down stumps in the middle of the woods or in the front yard of a customer.
SAVE 10 %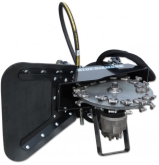 SAVE 10 %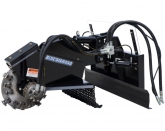 The locations are limitless compared to a all in one stump grinding machine. It also allows you to grind the stump from the comfort and safety of your cab. Both units have replaceable carbide teeth that aggressively chew through any size stump with little wear.