Skid Steer Stump Grinders
Use your skid steer to grind down stubborn stumps with either our heavy duty or extreme duty stump grinders. Each is available in either low flow or high flow options.
Having the ability to grind stumps using your skid loader allows you to grind down stumps in the middle of the woods or in the front yard of a customer.
SAVE 10 %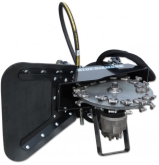 SAVE 10 %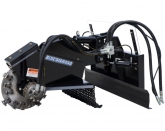 The locations are limitless compared to a all in one stump grinding machine. It also allows you to grind the stump from the comfort and safety of your cab. Both units have replaceable carbide teeth that aggressively chew through any size stump with little wear.
Skid Steer Stump Grinder
Eat up stumps with ease with our Skid Steer Stump Grinder. Turn your skid steer into a stump eating machine! We offer two different models depending on your skid loader. You can either purchase the low flow or high flow grinder. The Stump Grinder Attachment can be easily operated from the comfort of your cab with the pistol grip control harness option. It will grind stumps up to 8 inches below the ground with ease. Comes with an Eaton Char-Lynn hydraulic motor that powers the 1/2 inch cutting wheel at a whopping 1,100 rpm. This enables you to chew through stumps 8 inches into the surface in as little as 2 minutes.
Bobcat Stump Grinder
Our Bobcat Skid Steer Stump Grinder comes in a standard flow model or a high flow model depending on your skid loader. Add a pistol grip harness for easy operation. It comes complete with a 1-year warranty. It is manufactured right here in the USA using USA metal. The ultra strong 32 carbide teeth of this stump grinder attachment will aggressively chew into and through any stump. These teeth are replaceable. The bi-directional cutting design allows for a more aggressive pattern and cuts down grinding time. This attachment is easy to maneuver into narrow areas without causing excess turf damage. For questions, please call 1-866-315-3134.