Skid Steer Stump Grinders
Use your skid steer to grind down stubborn stumps with either our heavy-duty or extreme-duty stump grinders. Each is available in either low flow or high flow hydraulics options.
Having the ability to grind stumps below ground level using your skid loader allows you to grind down tree stumps in the middle of the woods or in the front yard of a customer.
SAVE 10 %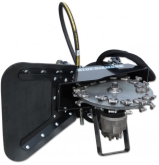 SAVE 10 %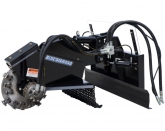 The locations are limitless compared to an all-in-one stump grinding machine. It also allows operators to grind the stump with great visibility from the comfort and safety of the cab. Both stump grinding attachments have replaceable carbide teeth that aggressively chew through any size stump with little wear. If you are a skid steer solutions customer, you will find these attachments extremely useful.
SKID STEER STUMP GRINDER
Eat up stumps with ease with our Skid Steer Stump Grinder. Turn your compact track loader into a stump eating machine! We offer two different models depending on your skid loader. You can either purchase a high flow grinder or standard flow. Skid steer stump grinder can be easily operated from the comfort of your cab with the pistol grip control harness option. It will grind stumps up to 8 inches below the ground with ease. Comes with an Eaton Char-Lynn hydraulic motor that powers the 1/2 inch cutting wheel at a whopping 1,100 rpm. This enables you to chew through trunks 8 inches into the surface in as little as 2 minutes.
BOBCAT COMPATIBLE SKID STEER STUMP GRINDER
Our Bobcat Compatible Skid Steer Stump Grinder comes in a standard flow model or a high flow model depending on your skid loader. Add a joy-stick electrical harness for easy operation. It comes complete with a 1-year warranty. Our stump grinder for skid steers is manufactured right here in the USA using US steel. The ultra-strong 32 carbide teeth of this skid steer stump grinder attachment will aggressively chew into and through any stump. These stump grinder teeth are replaceable. The bidirectional cutting design allows for a more aggressive pattern and cuts down the grinding time. This stump grinder attachment is easy to maneuver into narrow areas without causing excess turf damage. For questions, please call 1-866-315-3134.
Our stump grinder for skid steer will be perfect for large property owners or for construction and gardening companies. Our skid steer stump grinders will also find use in agriculture. If you own a skid loader, this attachment will definitely not disappoint you!
If you are not sure if our skid steer attachments will fit your machine, first, pay attention to the power of your skid steer and then decide on the right attachment. We have models available in both low flow skid steer stump grinder and high flow options.
When choosing the right attachment, take into account the size of the stumps you want to remove. A smaller attachment for larger stumps may take more time to work with. However, if the terrain you want to work in is demanding, such as forest, it may be better to choose a smaller attachment to have easier access to the trunks and to move more efficiently through the terrain.
If you want to know more about how to choose a stump grinder attachment, enter a search keyword into your browser or call our customer service.
BENEFITS OF STUMP GRINDING ATTACHMENT
There are many benefits to using a stump grinder for skid steer. First and foremost, there are safety concerns. Overhanging stumps can be invisible to pedestrians and cause accidents. Especially if there are children or elderly people on the property where the tree was cut down. Removing the remains of the tree will also make it easier to take care of the lawn, such as mowing.
You should also pay attention to the aesthetics of the area. Stumps often disturb the landscape design of a garden. Additionally, stumps make it impossible or difficult to arrange the space anew, e.g. for a vegetable garden.
Over time, stumps decay, attracting unwanted microorganisms, fungi, and insects that may infect the vegetation growing around the stump. Using a Skid steer stump grinder will help you to protect the environment as it is a more eco-friendly way to get rid of stumps compared to, for example, using chemicals.