Skid Steer Land Planes
The perfect grading tool for landscapers, or construction, fine grading for lawns, sidewalks or driveways. Easily level out the uneven ground,
break up soil or level a surface with the Economy Land Plane. The four beveled cutting edges skim off the high areas and fill in the low areas.
SAVE 5 %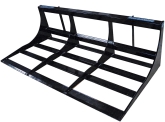 SAVE 5 %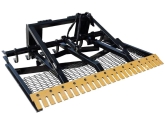 Cut, grade, and level in both directions with this bi-directional attachment. Also works great for sod removal, or springtime gravel driveways This attachment is available in 2 different sizes 72" and 84". Minimally make sure that the land leveler you choose is 72" or 84", covers the entire width including the tires, or tracks of your machine. This will ensure consistency and prevent puddling in the tracks you might leave behind.