Skid Steer Land Planes
It goes by many names: land levelers, grader levelers, or earth levelers. However, it is the same piece of equipment. If you want to level an area, there is no better solution than a grader. This is the accessory you need to drop the land for your project, and it works for almost any type of soil. The perfect grading tool for landscapers, or construction.
Make short work grading for lawns, sidewalks, or driveways. Easily level out the uneven ground, break up the soil, or level a surface with the Economy Land Plane. The four beveled cutting edges skim off the high areas and fill in the low areas.
SAVE 5 %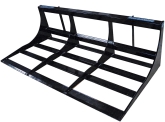 SAVE 5 %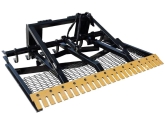 Cut, grade, and level in both directions with this bidirectional attachment. Also works great for sod removal, or springtime gravel driveways, This attachment is available in 2 different sizes 72" and 84". Minimally make sure that the land leveler you choose is 72" or 84", and covers the entire width including the tires, or tracks of your machine. This will ensure consistency and prevent puddling in the tracks you might leave behind.
SKID STEER LAND PLANE FOR SALE
The Land Plane leveler for sale from Skidsteers.com is the perfect choice for your skid loader when looking to level land, remove rock from the soil, break up hard soil, or general surface grading. This attachment is available for both mini-skid loaders and larger skid steers. The mini land plane can use bidirectional and will level and grade quickly. The larger Land Plane skid steer attachment for small to large skid steers is available in 72 or 78-inch models.

Every detail of the skid steer land plane has been thought through at the construction stage. Removable screen trays sift rocks, dirt, and other debris from the soil. Hydraulic scarifying teeth to cut high spots come standard on both models. The selling item includes hoses as well. Resistant steel cutting edge with front and rear tooth profile for forward and reverse grading. If you would like a model without hydraulic scarifier teeth, please call customer service. These skid steer land plane attachments come fully welded and are made right here in the USA.
SKID STEER ATTACHMENTS FOR A LAND LEVELER
To choose the best attachment for your needs, it's helpful to know a few things about land levelers. Owners and operators quickly learn that a skid steer land leveler has more benefits than just leveling soil. It can be useful for removing weeds around trees, buildings, and fence lines or smooth out any uneven terrain. You can use a leveler to level and maintain driveways or rip up and remove the sod. Do you intend to rip up the hard ground? There is no better way to do this than to use a land leveler. Any of these applications can be done quickly with a skid steer land leveler.
Built to be a rugged and durable tool, this mini skid steer soil planer from Blue Diamond is designed just like its full-size counterpart. With Mini Universal or Bobcat MT mounts, you can effectively attach it to your tractor and use this planer for leveling soil, gravel, concrete, and asphalt preparation.
The Blue Diamond land plane is an excellent tool for leveling soil and gravel for a satisfactory result. The bi-directionality allows you to work forward and backward. This feature makes it easier for the operator to use the equipment and cover a considerable distance, saving time.
BLUE DIAMOND'S MINI SKID STEERS LAND PLANES – THE BEST QUALITY AND REASONABLE PRICE
The overall quality of the mini skid steer land planner depends on the quality of the material and the work put into making it. This skid steer is built stronger than the others. Because it was designed in the United States, you know you are getting the best attachment on the market. Don't wait, order online your skid steer the land plane. Just click on the selected item and add it to the cart. Buy it easy with home delivery.
WHAT TO LOOK FOR WHEN BUYING A LAND LEVELER
When determining the overall quality of a leveler accessory, look at its overall weight. Levelers are simple devices, so most of their weight will be on the frame.
A heavier leveler means that the frame is made of more steel. It's also worth noting the width and thickness of each leveler's cutting edge. A thicker, wider cutting edge is usually stronger and has a longer life span.
Not all skid steer land levelers are created equal. When choosing the right attachment for you, consider the factors listed above. Check to see if the edges are durable or replaceable, and always pay attention to the weight of the attachment. For further questions, please contact us at 1-866-315-3134.