Skid Steer Post Drivers
A post driver, post knocker, or fence driver is a tool used to drive fence posts and similar items into ground surfaces. It consists of a heavy steel tube that is closed at one end and has handles welded on the sides. Your skid steer has just got much cooler!
Now with the new Blue Diamond Vibratory Post Driver, you can easily drive in fence post quickly and efficiently with very little labor. This combination works perfectly in all fence and other post-driver applications.
SAVE 5 %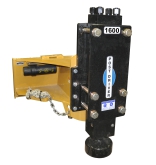 SAVE 10 %
A hydraulic post driver attachment eliminates the need for drilling oversized holes and backfilling to firm the post. This means, of course, the only thing you need to bring to the site, besides your lunch, is the post driver, and posts.
A hammer style self-contained post driver will drive a post at 35 strokes per minute as large as even railroad ties, and as small as a skid steer T-post driver, with minimal hydraulic power. The minimum post size is 3''. The skid steer maneuverability allows it to be easily moved around buildings, carports, trees, and other impediments.
An optional tilt function allows the operator to place posts on uneven surfaces such as hills. When pounding post, it is helpful to have a spotter. Landscapers, highway scapers, fencing companies, and municipalities will love this attachment because you can pound posts faster and on almost any terrain. Easy, reliable, powerful, and fast.
We do recommend the use of hearing protection and any other personal protective equipment the job requires, including safety shoes or boots, and a hard hat.
How Do Hydraulic Post Drivers for Skid Steers Work?
A pole pounder is exactly what it sounds like. It is a tool used to drive fence posts into the ground. Setting fence posts may seem like an easy task, after all, it only requires you to make a hole in the ground, but it is a bit more complicated than that. The last thing you want is your fence falling over because the posts are set too shallow into the ground.
First and foremost, the posts need to be well-rooted in the ground so that they can hold up well even in the face of outside elements. Vibratory Post Drivers allow for an even downward movement of the post so that it is driven deep into the ground with minimal damage to the post.
The basic principles of how the post drivers work, regardless of their design, are the same. The process involves applying a large downward force to the post, which causes it to be driven evenly into the ground.
Skid Steer Post Driver
Farmers, ranchers, backyard farmers, and fencing contractors all have one common problem when it comes to installing fences… how to get those darn posts into the ground. Our Post Driver allows you to easily drive posts to the ground level.
The hammer weight of 300 lb. has a 40" stroke and cycles up to 35 times per minute. This pile-driving technology is powerful enough to drive anything from t-posts to rail-road ties, you can make post-driving a one-man job by adding our optional post-holding grapple, freeing up your team for other tasks. The hydraulic tilt adjustment function is another great option that can be added.
Our high-quality post driver for Skid Loaders is made in the U.S.A. and comes standard with one year of warranty coverage. This Skid Steer Attachment makes previously back-breaking work efficient and easy. It's just one more tool we offer that helps you get the most out of your Skid Steer.
Which Skid Steer Fence Post Driver is Right for Your Job?
The answer to this question is difficult and depends on your needs.
When considering the selection of a post driver, keep the following factors in mind:
The size of your project
The size/type of machine you have (including skid steer mount type)
The size of the posts you will be installing
Price range
The terrain
The type of soil
In most cases, where the terrain is uneven, we suggest using post drivers with a hydraulic tilt option if your budget allows. Again, depending on your budget, needs and location, you can choose the perfect post-driver option for you. We recommend speaking with one of our sales specialists to help you select the perfect unit for your budget.
Skidsteers.com offers a wide selection of post drivers for the average farmer, large rancher, construction company, or everyday fencing contractor. Contact us at 1-866-315-3134, to get further details.