Skid Steer Cold Planers
The Skid Steer Cold Planer attachment by Blue Diamond is an effective tool for small milling jobs, for example, to remove concrete or asphalt for repair or replacement applications. Dedicated planers are also suitable for preparing drainage channels in parking lots, repairing bulging road surfaces caused by tree roots, curb cutting, pavement texturing for improved skid resistance, 
roughening floors in stables, for example, and repairing concrete pothole. Our skid steers cold planers will be perfect for the removal of traffic lane stripes or frost heave repair, as well. Several different models are available depending on the width of the application and the hydraulic flow of your compact track loader.
SAVE 10 %
SAVE 10 %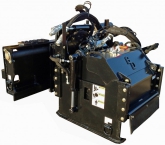 SAVE 10 %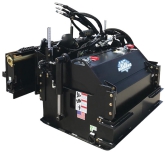 Widths range from 12 inches up to 48 inches. These units are specifically designed for easy access to the drum for easily changing out cutting teeth. Each skid steer planner comes with a full 1-year warranty and is completely manufactured in the USA. Our sales team is here to answer all your questions. Contact us at 1-866-315-3134.
SKID STEER ASPHALT PLANER
Skid Steer Cold Planers can be a crucial part of the pavement milling process. SkidSteers.com is proud to offer you a powerful, industrially-engineered Cold Planer to help your skid steer level asphalt with your compact track loaders. We have 11 different models available to you that range inflow from the 12-inch low flow, all the way up to 48-inch high flow. Our Cold Planer is made in the U.S.A. and is backed by our one-year warranty.
Our cold planer offers easy grade control through adjustable side runners. Quality components like the Sauer piston motor and the Fairfield planetary drive featured in the high flow models or direct drive on the low-flow models, make this industrial-grade design one of the most reliable in our industry. Our sales team is here to answer all your questions. Contact us at 1-866-315-3134.
HOW TO CHOOSE SKID STEER PLANER
What kind of skid steer planers are available on Skidsteers.com? You can choose from Low Flow, High Flow, and Severe Duty Planners. The choice of the right machine should be supported by the workload and the machine parameters. For high production needs, choose Severe Duty Planner with up to 106 rockets fin teeth. These high-end components, combined with the highly engineered design, make this planer one of the most reliable units available for a skid steer attachment.
For less demanding jobs, choose Low Flow Planer. This model also features exceptional construction and durability. Will be ideal for precision work on smaller surfaces. For medium workload, there is our High Flow Planer with up to 90 rocket teeth. It will quickly tackle the leveling of asphalt or concrete. If you still have any doubts about what to choose, call us at 1-866-315-3134.
WHY SHOULD YOU CHOOSE OUR COLD PLANER?
Our Cold planers are the best choice for your company. We used only high-quality components to extend the machine's life, for example, material protective shields for hydraulic and electrical components or high rear spoil clearance to prevent recirculation.

There are certain features of the planer attachments that you should be looking for as well. One of them is hydraulic side shift. We know how frustrating it can be when you try to approach a curb and finish your job, but you are unable to get close enough. The remedy for that can be our cold planers. Thanks to the most side shifts off-center in the industry, giving you reach you need to get the job done right.
What else makes our skid steer planer the most competitive on the market? In our machines, the planer drum is supported on the opposing side from the motor. This is an obvious improvement over most competitors that ensures smooth machine operation and extends the life of the attachment.
What our customers love about our skid steer cold planners are rocket fin teeth. What is so special about them? The teeth rotate as they cut, which provides longer tooth life due to constant tooth wear and also prevents the tooth from jamming in the chuck. Longer tooth life and easier tooth replacement save time and money. A large access cover makes changing teeth easier.