Skid Steer Tree & Post Puller
Tree puller attachments work great for pulling out and removing large overgrown areas of vegetation. Pull out small invasive trees such as mesquite
right to the root stopping regrowth. The skid steer tree and post puller attachment also makes easy work of pulling out old fence post.
SAVE 5 %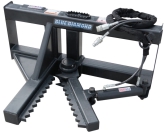 SAVE 5 %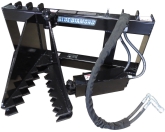 Skid Steer Tree Puller
Looking to clear a lot of small trees, shrubs and overgrown vegetation. Rip small trees and shrubs out of the ground with ease with the Tree Puller Attachment from Skidsteers.com. This attachment is engineered for rows of teeth for the grabbing grip you need for those trees with stubborn roots. The 11-inch opening will allow the teeth to get around shrubs and bushes with heavy growth. This attachment comes fully welded and powder painted black for durability and to keep the moisture out. Hoses and couplers are included. This Tree Puller Attachment is made in the USA with USA steel. If you should have any questions please feel free to call customer service.