Skid Steer Tree & Post Puller
Tree puller attachments work great for pulling out and removing large overgrown areas of vegetation. Pull out small invasive trees such as mesquite right to the root, stopping regrowth. The skid steer tree and post puller attachment also make easy work of pulling out old fence posts.
It's hard to do without a skid steer puller when you deal with tree and shrub removal on a daily basis. A skid steer puller will also be an indispensable tool when removing fence posts. Anyone who has ever tried to remove a post knows the effort involved. With the right skid steer puller attachment, your work will go faster and easier.
SAVE 5 %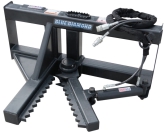 SAVE 5 %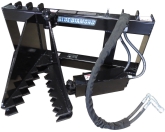 SKID STEER TREE PULLER
Looking to clear a lot of small trees, shrubs, and overgrown vegetation. Rip small trees and shrubs out of the ground with ease with the Tree Puller Attachment from Skidsteers.com. This attachment is engineered for rows of teeth for the grabbing grip you need for those trees with stubborn roots. The 11-inch opening will allow the teeth to get around shrubs and bushes with heavy growth. The main frame of this attachment comes fully welded and powder-painted black for durability and to keep the moisture out. Hoses, cylinders and couplers are included.
This Tree Puller Attachment is made in the USA with USA steel and has been field-tested. All components, such as pivot pins and pivot points, are made of the best materials. For a limited time, when you purchase our Tree Puller and other ordered parts, you get free delivery on the US continent location. If you should have any questions, please feel free to connect with us.
THE SKID STEER THREE PULLER ADVANTAGES
If you need to pull up small-diameter trees or posts, a skid steers puller attachments are a way to go. Within just a first attempt, simply drive up to the tree you plan to remove, grab it with your grasp, and you are done. This is a great tool, especially if you want the bush or tree to never grow back again. The skid steer tree pullers will make a short work to uproot the tree so that it will definitely not grow back. If you plan to take down a fence, a skid steer puller will be indispensable. Posts will come out without a scratch against the skid steer puller.
What other skid steer puller advantages can you expect? These skid steer attachments will help you to remove the root system. There are many advantages to this solution. First, by removing the tree with the root system, you reduce the risk of regrowth of trees or bushes to a minimum. In addition, imagine walking around the plot and tripping over roots left behind or having difficulty tilling the soil because of roots left in it.
The undoubted advantage of the skid loader tree puller is that it is easy to use. It only takes one person to pull out a tree or fence posts. Compared to using chains, it is an extremely efficient solution that does not require an additional operator.
HOW TO CHOOSE THE RIGHT ATTACHMENT FOR YOUR SKID STEER LOADER?
There are several things you should look for before buying an attachment. First, check the lifting capacity of your machine. The more lifting capacity you have, the bigger trees and other objects you can pull out of the ground. We offer two types of small tree pullers: Standard and Heavy Duty. Both have 4 rows of teeth, open up to 11 inches, which will allow you to effectively remove even extremely stubborn trees and bushes.
Before purchasing, make sure the diameter of the jaws will cover the vegetation you wish to remove. It is also worth remembering that the efficiency of tree and shrub removal will be affected by climate and soil type. In drier conditions, trees are more firmly rooted, which can make removal more difficult. The skid steer tree puller attachments we offer are suitable for pulling trees with a small diameter of about 3''. If you want to pull larger diameter trees, please contact us for help. Still not sure which is the best skid steer puller for your needs? Call us at 1-866-315-3134. Our team will help to make up your mind.