Skid Steer Material Spreaders
Having a spreader attachment for your skid steer comes in handy in many applications such as spreading seed for new turf over a 1-acre area, or covering an icy parking lot with salt.
In these larger applications, using a skid steer spreader versus a walk behind unit will keep your labor time to a minimum.
SAVE 10 %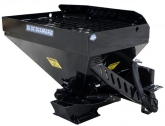 SAVE 10 %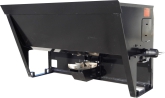 Material spreaders are yet another attachment that allows you to optimize your skid steer and your time
The salt spreader is an attachment used by commercial snow removal companies and municipalities. It eliminates the need for an additional loading device, as you are able to lower and scoop salt from the source, similar to that of a bucket, and you're right back out there. The salt is auger fed from the hopper and spread by a stainless steel spinner 4.5 feet up to 12 feet. The hopper size is dependent upon the width. the 60" capacity is 26 cu ft. and the 72" capacity is 32 cu ft. When the season is over of course maintenance is very important. The salt spreader is powder coated but after a season's use, there will be nicks and a few scars I'm sure. Pay special attention to clean up and lubricating for storage as road salt is very corrosive.
A material spreader is a versatile machine allowing the operator to spread sand, salt, or seed up to 40 feet. The hopper comes with a weather cover keeping your payload dry. Wet sand can weigh as much as 126 lbs per cu ft and with a capacity of 5 cubic feet, a wet load of sand would be 630 lbs. This would also require the use of an optional vibrator kit to keep your material flowing. The use of the optional gate kit would make this material spreader even more efficient.