Skid Steer Material Spreaders
Having a salt and sand spreader attachment for your skid steer comes in handy in many applications, such as spreading seed for new turf over a 1-acre area or covering an icy parking lot with salt. In these larger applications, using a skid steer spreader versus a walk-behind unit will keep your labor time to a minimum.
Especially when the hopper has quite an impressive capacity. Are you looking for a multipurpose attachment for your skid steer? Look no further. At Skidsteers.com, you can choose from high-quality material spreaders and dedicated salt spreaders. Check out our offer and choose the best attachment for your skid steer!
SAVE 5 %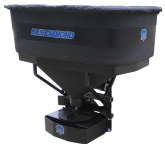 SAVE 10 %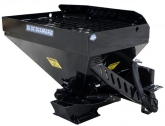 SAVE 10 %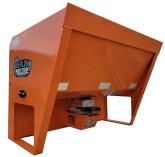 Material Spreaders are Yet Another Attachment That Allows You to Optimize Your Skid Steer
The skid steer salt spreader is an attachment used by commercial snow removal companies and municipalities. It eliminates the need for an additional loading device, as you can lower and scoop salt from the source, like that of a bucket, and you're right back to work. The salt is auger-fed from the hopper and spread by a stainless-steel spinner 4.5 feet up to 12 feet.
The hopper size is dependent upon the width. The 60" capacity is 26 cu ft., and the 72" capacity is 32 cu ft. When the season is over of course maintenance is crucial. The salt spreader is powder coated but after a season's use, there will surely be nicks and a few scars. Pay special attention to cleaning up and lubricating for storage, as road salt is very corrosive.
A material spreader is a versatile machine allowing the operator to spread sand, salt, or seed up to 40 feet. The hopper comes with a weather cover, keeping your payload dry. Wet sand can weigh as much as 126 lbs per cu ft and with a capacity of 5 cubic feet, a wet load of sand would be 630 lbs.
This would also require the use of an optional vibrator kit to keep your material flowing. The use of the optional gate kit would make spreading material even more efficient. For example, it works great for pelletized material such as fertilizer. Our skid steer spreader, after winter, can be used for lawn care or another agricultural job. Still not sure about purchasing? Contact our product professionals in our sales department with any questions.
Skid Steer Salt Spreader
Slippery ice on sidewalks, parking lots, driveways, and roads poses a huge liability to business owners in cold environments. Turn your skid steer into a giant salt hydraulic spreader with our Salt and Sand Spreader attachments. We offer two different styles to choose from. The first is a hitch-style skid steer salt spreader that must be manually loaded with salt before spreading.

The second style is our hydraulic bucket-style sand and salt spreader. This attachment tilts forward to allow you to scoop up material, tilt back, and spread salt or sand without leaving the cab. This makes spreading salt in large areas such as parking lots a breeze. An auger inside this attachment keeps the salt from bunching up and keeps the flow of material from clogging the gate. This spreader is available in 60 or 72-inch models.
These skid steer spreaders also work great for spreading seeds and other small materials. With a unique spread pattern, these skid steers attachments will do the most even spreading jobs, with whatever you spread. Rest assure you are purchasing the highest quality product, it is made in the USA and has a one-year warranty. For more information, contact us at 1-866-315-3134.
What capacity do I need for my salt spreader?
If you are wondering, what capacity your salt spreader needs, we have a formula for easy calculations.
According to Snow & Ice Salt & Chemicals Unlimited, you need about 2.3 pounds of salt per 1,000 square feet. However, the amount of salt depends on temperature and other environmental conditions.
Considering 2.3 pounds per 1,000 square feet, you can easily calculate how much area your salt spreader will cover when the hopper is full. Rock salt for deicing weighs about 80 pounds per cubic foot.
Skid Steer Spreader for All Applications
Looking for a perfect skid steer material spreader with easy loading and useful features? Skidsteers.com offers a variety of American made skid steer material spreader attachments for all spreading jobs. Our equipment is made of American steel and comes with a 1-year warranty. For more questions regarding the units we carry, contact our support team at 1-866-315-3134.