Skid Steer Power Rakes
The "Soil Conditioner" attachment, is as the name implies. It conditions the soil. Meaning it cultivates up to 4" deep, breaking up sod pulverizing the soil, eliminating clumps, separates rocks,
and the 10" counter rotating drum with carbide tungsten teeth driven by a direct drive motor, pushes soil ahead filling in low spots, and knocks down high spots. The end result will be a seed bed ready to go.
SAVE 10 %
SAVE 10 %
SAVE 10 %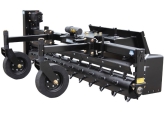 There are a few options you might consider. Hydraulic angling which will rake stones and debris to the side. A floating connection allowing the soil conditioner to float with the landscape, allowing for a more natural contour. Typically you can do this in one pass, imagine the savings of a one man operation. Your skid steer should have a GPM or Hydraulic gallons per minute of 15-33 to operate the soil conditioner effectively. Always choose a width that will at least cover the entire width of your skid steer including the tracks or tires.