Skid Steer Power Rakes
The "Soil Conditioner" attachment, is as the name implies. It conditions the soil. Meaning it cultivates up to 4" deep, breaking up sod pulverizing the soil, eliminating clumps, separates rocks,
and the 10" counter rotating drum with carbide tungsten teeth driven by a direct drive motor, pushes soil ahead filling in low spots, and knocks down high spots. The end result will be a seed bed ready to go.
SAVE 10 %
SAVE 10 %
SAVE 10 %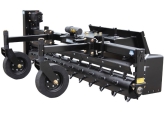 There are a few options you might consider. Hydraulic angling which will rake stones and debris to the side. A floating connection allowing the soil conditioner to float with the landscape, allowing for a more natural contour. Typically you can do this in one pass, imagine the savings of a one man operation. Your skid steer should have a GPM or Hydraulic gallons per minute of 15-33 to operate the soil conditioner effectively. Always choose a width that will at least cover the entire width of your skid steer including the tracks or tires.
Skid Steer Soil Conditioner
The Skid Steer Soil Conditioner and Landscape Rake Attachment pulverizes dirt up to 4 inches deep. The Soil Conditioner is available in 72 or 84-inch sizes. It allows you to rake rocks and other debris to the side or to the front while tilling so they're separated from the soil for easy pickup. We include the Universal Skid Steer Mount in order to attach to most skid steers. The Soil Conditioner comes standard with heavy duty tungsten - carbide teeth. With solid rubber tires and direct drive motor, this sturdy skid steer attachment will help power through even heavily compacted soil. These units are made in the U.S.A. and supported by our 1-year warranty.
Here at Skidsteers.com, we offer the best-engineered landscape rake for sale at the best price. For a limited time, this attachment also ships for free. This attachment works perfectly for landscapers looking to clear soil from rock and other debris while conditioning the soil for seeding. This landscape rake attachment pulverizes the dirt into fine soil. Easily adjust the rake from inside the cab with the use of the optional pistol grip control harness. This will allow you to push the rock and debris to one side or the other. This attachment will save time and money over doing this job manually. For questions please call customer service.