Skid Steer Bale Squeeze
Skid steer bale handler attachment available in dual squeeze round or square bale, or round bale only. These attachments allow to safely pick up bales and transport them around the farm or work site.
It is a great alternative to bale spear attachments. These handlers require very little GPM and attach to any skid steer or tractor with a universal style mount.
SAVE 5 %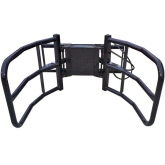 SAVE 5 %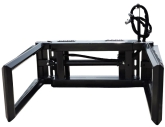 SAVE 10 %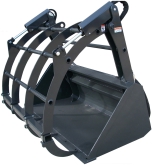 WHY USE A BALE HANDLER?
Need to move hay bales around the pasture, fields, onto a hay trailer, or into the barn? Turn your skid steer into a hay bale handling the machine with the Round or Dual Hay Bale Handler from Skidsteers.com. Our Round Hay Bale Handling attachment is specifically designed for round hay bales. It has a strong tubular design, opens up to 58 inches in width, and can easily handle bales in the horizontal or vertical position. Our Dual Style Bale Handler for handling round or square bales will handle bales up to 96 inches in width. It will handle bales up to 2300 lbs. It will handle both wrapped and unwrapped bales. Both attachments are made right here in the USA and come with a one-year warranty. For our customers, we have a limited-time free shipping offer. If you still have questions, contact us at 1-866-315-3134.
HAY SQUEEZE ATTACHMENT ON THE FARM
Working on a farm presents many challenges to the farmer. Fortunately, modern equipment makes this constant work easier. One of the facilitators is the skid steer bale squeeze attachment. It is an invaluable piece of equipment that will save you time when loading bales in the field on a trailer, unloading them, or transporting them to stables and other locations. This simple design relies on fewer control motions for maximum efficiency in hay moving.
Tired of wondering how to flip heavy hay and straw bales onto a trailer or into a barn? If you own a skid steer, we have a durable and cost-effective solution for you. Buy one of our hay squeeze attachments, which can be used as well as a tractor attachment. Never again transporting hay bales will be a challenge for you. In addition, your wheel loader will gain more tasks, becoming a versatile skid steer.
The Blue Diamond bale squeeze offered in our store allows you to work faster and safer. You only need one operator who can control the machine from the safety of the skid steer cab. Tasks that until now required hiring several workers or renting equipment can now be done by one man to achieve maximum productivity.
HOW TO USE HAY SQUEEZE FORKLIFT ATTACHMENT
Working with bales raises the risk of injuries. Therefore, handling them from the safe position of the skid steer operator avoids many accidents. Using an HMI hay squeeze attachment is therefore not only a matter of convenience but also a matter of safety. Bales are usually made of straw, hay, and silage. These materials bundled together in large bales are extremely heavy. They serve as fodder for the animals and therefore require constant moving from place to place.
WHAT DO YOU NEED TO CONSIDER WHEN MOVING BALES?
First, pay attention to the weight of the load and compare it to the capacity of your skid steer loader. Also, make sure that you do not block the view of the skid steer when moving the bale. During transport, make sure that the skid steer loader can drive on a relatively straight surface. Deep holes and moguls may increase the risk of tipping.
The mounting and use of the hay squeeze attachment itself are easy thanks to the simple hay squeeze design. The attachment handles both round bales and square bales. Hay squeezes for wheel loaders will also handle wrapped bales or unwrapped ones. Before working, make sure that the bale diameter is smaller than the maximum diameter of the hay squeeze and bigger than the minimum squeeze. Then just get as close as possible to the bale, clamp it with the hay handling, and you are done! You can pick up bales sitting flat or on their side. Remember to keep the load as low as possible during transport. Should you have any further questions, contact our sales department at 1-866-315-3134.