Over The Tire Skid Steer Tracks
Over the tire tracks turn your standard wheeled skid steer loader into a track-style machine in a matter of minutes. Over the tire tracks give your skid steer flotation. In other words, they allow for fewer lbs of pressure per square inch, distributing the weight of your machine over a broader platform. It allows the operator to get traction in mud and sand without getting stuck.
The machine will work more efficiently in wet conditions and areas including turf or wet grass, which are more sensitive or prone to damage. Typically they will fit over standard tire sizes 10x16.5, 12x16.5, 27x10.5-15, or 14-17.5. Your machine make and model will dictate the size, as well as the need for spacers.
SAVE 5 %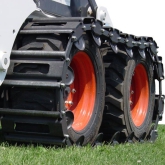 SAVE 5 %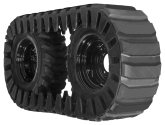 Benefits Of Metal Over Tire Tracks

Our steel over tire steel tracks are manufactured using entirely USA steel, right here in the USA! Each trackpad is set up by hand to ensure the best quality control. All tracks are welded in-house by robots for precision welding. Adding these tracks to your skid loader will provide you with superior flotation even in the wettest conditions.
This equipment is the industry's first engineered over-the-tire metal skid steer track. They are manufactured using only the highest quality carbon steel. They are made from Marbain material. Marbain is a patented heat treat process using high carbon steel stampings heat treated up to 52 RC to give you the hardest, longest-wearing tracks in the industry.

These metal over-the-tire tracks not only work extremely well plowing forward in the wettest conditions, but you will also be able to back out of the most extreme conditions and harsh environments too. It's the traction design of these tracks that will bulldoze you through where 4 wheels can spin you to a stop!
Benefits Of Rubber Over Tire Tracks

By purchasing over-the-tire rubber tracks for your skid steer you are able to tackle mud, dirt, sand, and other soft messy conditions with ease. High-quality rubber pads will significantly increase the flotation of your machine which will get more traction for applications that call for steep terrain. When working on abrasive surfaces such as gravel, you will not have to worry about prematurely wearing out your skid steer tires.
What rubber pads do we offer?
Our replaceable rubber pads can be fitted on most skid loaders including Belle, Bobcat, Cams, Case, Caterpillar, Daewoo, Eurocomach, Fermec, Gehl, Hydramac, John Deere, Kobelco, Komatsu, Libra, Liugong, Locust, Mustang, Neuson, New Holland, Skat Trac, Thomas, Toyota, Vectra, and Volvo. For a complete list of Manufacturers and models please visit the Over The Tire Rubber Skid Steer Tracks product page.
Over The Tire Tracks

We offer over-the-tire skid steer tracks also known as OTT tracks for the following brands of skid steers: Bobcat, Case, Caterpillar, Daewoo, Gehl, John Deere, Komatsu, LiuGong, Mustang, New Holland, Skat Trac, Takeuchi, Thomas, Volvo, and Wacker Neuson. Whether you are interested in rubber OTT tracks or steel over-tire tracks, either one can be attached to your machine in about 20-30 minutes.
To simplify the process even more, we have prepared some instructional videos for you to watch. By adding OTT tracks, you convert your skid steer into a track machine. It allows you to easily push through deep mud, especially during rainy conditions. Both style tracks give you excellent flotation and traction. For questions please call our knowledgeable and helpful customer service.