Skid Steer and Mini Excavator Tracks
Finding the right size tracks can be a bit daunting. Getting the wrong size is problematic in so many ways, including valuable time lost. With so many different brands out there it can be confusing. Just a click or two away will reveal the size and possible alternative you'll need. To confirm the size, count the links, and measure the pitch,
and width of your current track. Typically its measured using metric measurement. Sometimes the size is also stamped on the inside of the track as well. You'll want continuous steel cord technology in most cases, however, NMC Non-metal core technology also serves a purpose and is proprietary to some makes and models.
What makes our compact track loader & excavator rubber tracks better?
Continuous Steel Cord Technology - Meaning the steel cord is continuously wrapped around the track drastically reducing the chances of the track splitting.
Excellent to very excellent rubber bonding Not mechanically fastened (many companies will use mechanically fastened cords if they have problems with rubber bonding)
Metal forged heat treated embeds (many companies will use cast embeds and tend to have high instances of cracking.)
Only 1 Warranty Claim in the last 3 years!
Track Sizes Explained
Does replacing your skid steer tracks make you scratch your head and wonder? You look at all the numbers if you can still see them, and find them confusing? Rely on us, the experts, to let you know what all those numbers mean.

The first thing you need to do is see if the size is stamped into the rubber. If you can't find the information then you need to get out your metric ruler and we need three numbers to determine the size: Track width, Pitch, and the number of links. Of course knowing the make and model of your loader will help to confirm the size as well.
Measure the width of the track in Millimeters
Measure the distance between the inner links center to center
Count the number of links
Example: For a Cat 259B the size is: 320x86x53 (( 320 (track width) x 86 (pitch distance between inner links center to center) x 53 (number of links))

Hopefully, this has cleared a few things up regarding track sizes. There is a method to the numbers. Don't ever hesitate to call us here at (866) 315-3134 for information. We are always happy to give you the best advice available to us.
Track Design: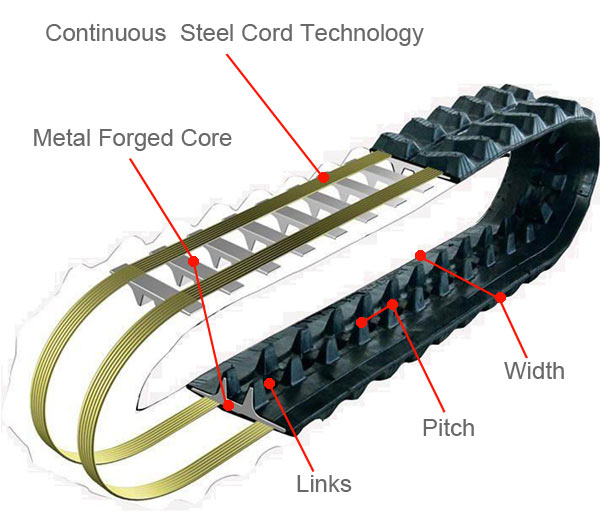 Track Pattern Explained
T-Pattern Track: The T-Pattern Track is a great all around track. This pattern offers a smooth ride on hard surfaces. It has excellent traction and works great in any application. The name "T" pattern comes from the resemblance the pattern has to the letter "T".

C-Pattern Track: This is the most common tread pattern. This pattern will give you a smooth ride on hard surfaces. The c-pattern tracks give your skid steer excellent traction and work great in any application. The name "C" pattern comes from the resemblance the pattern has to the letter "C".

B-Pattern Track: The term "B" pattern means block pattern. The staggered block pattern is a smooth comfortable ride on surfaces like asphalt or concrete. They offer very minimal disturbance on lawns.
Warranty
SkidSteers.com carries tracks for such brand name skid steers as Bobcat, CAT, New Holland, John Deere, and most other skid steer makes and models. All of our tracks are warrantied for 1 Year or the first 1200 hours whichever comes first (0-3 months 100%, 3-6 months 75%, 6-9 months 50%, 9 to 12 months 25%). Warranted against defects in materials and workmanship under normal use.