A mini excavator - in what conditions will it work, when is it worth using?
What is a compact excavator?
What makes up a mini excavator is a bucket, boom or stick connect to a cab where the operator sits. This all sits on a rotating housing that allows the operator, boom and bucket to rotate 360 degrees. Most mini excavators are equipped with a push blade that allows the operator to push piles of dirt like a dozer. This blade can also be planted into the ground to properly stabilize the machine to allow for more break out force in deeper digging depth.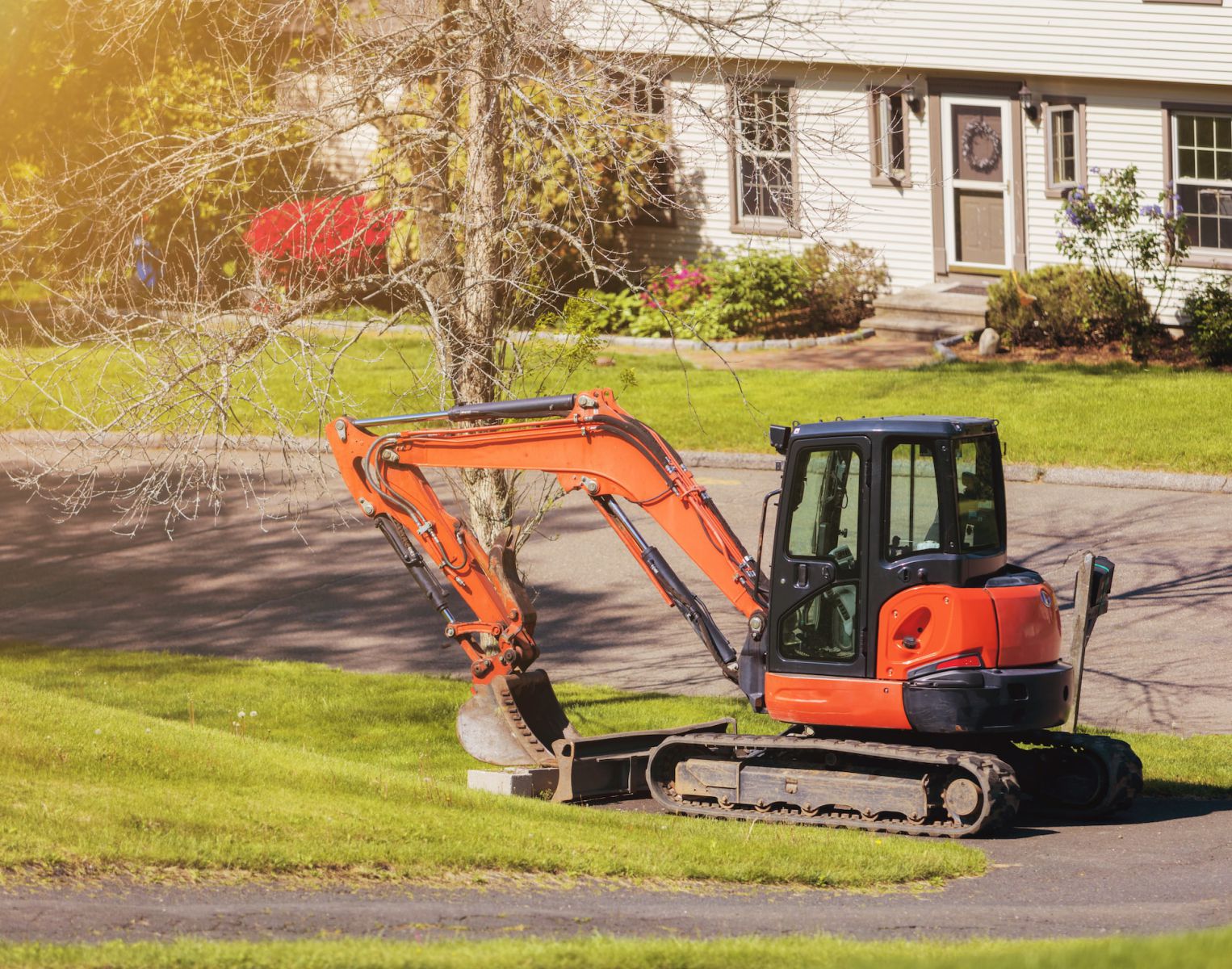 How are excavators classified?
Excavators are classified into 3 separate categories. Standard / Full Size Excavators, Midi Excavator, and mini or compact excavator. What separates this piece of construction equipment is the operating weight capacity of each excavator. Full Size Excavators operating weight range between 22,046 lbs. - 198,416 lbs., Midi Excavators range between 13,227 lbs. and 22,046 lbs. and lastly the mini excavators operating weight is any excavator machine less than 13,227 lbs. One of the most popular pieces of construction equipment on most smaller jobsites is the mini excavator.
Lets talk about the mini excavator
Today I would like to go over the compact excavator also know as the mini ex, small excavator, mini digger, mini hoe and compact excavator and the reasons why you would choose this machine for your job sites. This piece of compact equipment may be smaller than its big brothers the midi and full size excavators, however it can tackle big jobs in tight quarters reaching deep dig depth in such applications as trenching large drainage lines between buildings or in residential areas. Prior to the development of compact excavators this was a laborious job that had to be done with a hand held shovel taking countless hours. Over the years these compact excavators have become super popular in industries such as landscaping and utility work, farming, building construction, and more. One of the big reasons for this is that they can easily transport from jobsite to jobsite. Most mini excavator models can be towed with a class 1 or class 2 pickup truck without requiring a Commercial Drivers License.
Typical jobs your will see mini excavators on
Most of the time when you see a mini excavator on the job site, it will most likely be a residential job. These jobs include demo of garages or small homes, material handling or landscape work. Other site work compact excavators are used in are home renovation, digging footings, land clearing with brush cutters, installing pools, trenching for water drainage, breaking out old concrete, and landscape projects. Since these machines are very easy to operate, these machines are also very popular in the rental industry. You will see many do it yourselfer's doing many of the above projects themselves!
How to choose which mini excavator is best for which applications
This can be a daunting task as compact excavators are not a one size fits all machine. Also, they are quite expensive. I would suggest taking inventory of what types of applications you are GENERALLY doing. What is your business known for? Then fit your purchase of your compact excavator to fit the needs of these applications. If a certain niche application does not meet the need of the compact excavator model you chose, just simply rent one and work it into the quote for the job.
Characteristics of mini ex machines
Weight:
Mini excavators have a weight class of less than 13,227 lbs. This is beneficial in most residential applications which is typical for these machines. This means you can travel across customers concrete driveways or on turf with much less ground disturbance vs larger excavators.
Width:
What makes compact excavators a superior piece of equipment is the fact in can get into areas where maximum width matters. A specific application comes to mind. When doing indoor demolition at times a machine must fit through a 48" wide space to get to the area to demo. Working in tight spaces with minimum area for tail swing is where mini ex's shine. This is possible with the smallest mini excavators. Again even though they are smaller in size, they are still powerful enough to get the job done in the most efficient manner.
Digging Depth:
Digging depth can range significantly based up the model of the compact excavator you operate. The smallest units can effectively dig up to 7 feet into the surface. Larger machines can dig up to 20 feet in depth. This also goes for reach. The same dig depth also relates to reach in certain application such as brush cutting.
Attachments for Mini Excavators
The compact excavator is a versatile machine that can be used for a multitude of jobs. This list continues to grow every year. Below we highlight some popular attachments and there uses in the construction industry.
Auger Attachment:
When using an auger attachment in conjunction with your compact excavator, it gives you the ability to auger holes in many different terrains and on different angles much easier than any other machine. With the reach of compact excavators, you can auger holes for fence post on uneven ground while still keeping the hole and post level. Also, by using a compact excavator with an auger attachment allows you for maximum dig depth. This is accomplished by using the the height of the boom with auger bit extensions. This setup can allow you to auger up to a 20ft depth hole. This is because you can easily move the auger attachment left and right, forward or back to get the perfect placement. You will want to match your gallons per minute (GPM) with the augers most efficient GPM range.
Breaker Hammer Attachment:
The breaker hammer attachment is best used in with a compact excavator in most residential work. You can reach over fences, into garages on down into pools to easily break out concrete. No other machine offers this versatility. Just make sure you match your breaker with the weight of your compact excavator model's lift capacity.
Brush Cutter Attachment:
An ever increasing attachment for compact excavator models that offer auxiliary hydraulics between 16-26 GPM is the mini ex brush cutter. From cutting trails, to cutting brush around retention ponds, the versatility of the attaching a brush cutter to the mini ex is unmatched. You can cut up high and reach over objects to cut brush up to 6" in diameter safely. This attachment is very popular among farmers. Again, you will want to match your GPM and weight limits with the brush cutter you choose.
Digging Buckets and Ditching Buckets:
Generally, when you purchase a mini excavator, it will come standard with a digging bucket with teeth. This is what the first excavators were developed for, digging and trenching. Each model excavator has a different dig depth. Buckets can range in widths from 8"-48" wide depending on bucket style. These buckets can be used in any digging application.
Plate Compactor Attachment
For smaller compacting jobs such as compacting gravel to lay pavers or compacting trenches before pouring concrete, using a plate compactor attachment with your mini ex gives you the performance and reach to get the job done quickly with out having to drive over the surface you are compacting.
Excavator Thumb Attachment
Besides a bucket, the thumb attachment is the second most popular attachment to add to your compact excavator. The thumb attachment can be either ridged or hydraulically operated. The thumb essentially turns your bucket into a grapple bucket. It allows the operator to pick up and rip out brush or large boulders. The ridged thumbs can be adjusted to different angles manually but the bucket is required to curl back into the thumb in order to grapple. The hydraulic thumb is operated in the cab by the operator allowing the operator to open and close the thumb attachment into the bucket using the auxiliary hydraulics at the end of the boom. When not being using it typically can be pin backed out of the way of the bucket.
Post Driver:
Similar to the benefits of the auger attachment, driving post into the ground with an mini excavator post driver attachment is the most efficient way to drive post in areas of uneven ground. With the ability to rotate the boom left to right, forward and back or using the curling function, the operator is able to level the post driver while drive the post into the surface perfectly. With this attachment, you will want to make sure your machine's auxiliary hydraulics are pump at a minimum of 16 GPM.
Excavator Rake Attachment
If your application is scraping up roots just below the surface, clearing the area of debris or brush, the compact excavator brush and root rake attachment is the simplest most efficient way to complete the job. This attachment is built based on the weight of your machine. So make sure the rake you purchase is compatible to the weight of your machine.
Log Splitter Attachment
Harness the power of your compact excavator to split wood using the mini ex log splitter attachment. Instead of manually splitting wood by hand or picking up logs and splitting them on a gas log splitter, easily pick up, swing your boom over to the log pile and split. No back breaking work!
Rock and Concrete Grinder Attachment
If you are looking to grind away rock, concrete or asphalt in hard in general applications or hard to reach applications, use the Rock and Concrete Grinder mini excavator attachment. This attachment is commonly used for trenching purposes where rock or concrete are present. It will grind a very clean trench as deep as your excavator dig depth. You will need to match this attachment up with the weight and auxiliary hydraulics flow rating of your mini excavator.
Makes and Models of Popular Compact Excavators
Bobcat Mini Excavators
Bobcat makes a full line of versatile mini excavators including new models Bobcat E10, Bobcat E20, Bobcat E26, Bobcat E32, Bobcat E35, Bobcat E42, Bobcat E50 and the Bobcat E60. These machines range form 2,593 lbs. to 12.315 lbs. Bobcat mini ex's are known for the X-Change mount system that quickly allows you to change attachments.
CAT Mini Excavators
CAT is a very popular brand in the mini excavator market. Their mini excavators range in size from 2061 lbs. to 11,998 lbs in several different horse power ratings and different dig depth .Popular models for this the Caterpillar brand of compact excavators are CAT 300.9D, CAT 301.5, CAT 301.7 CR, CAT 301.8, CAT 302 CR, CAT 302.7 CR, CAT 302.7D CR, CAT 303E CR, CAT 303 CR, CAT 303.5E2 CR, CAT 303.5 CR, CAT 304, CAT 305 CR, CAT 304E2CR, CAT 305 E2 CR, and the CAT 305.5E2 CR.
John Deere Compact Excavators
Tackle big projects with little ease with one of the John Deere lineup of mini ex's. John Deere offers 6 different compact excavators to choose from. These models include John Deere 17G, John Deere 26G, John Deere 30G, John Deere 35G, John Deere 50G, and the John Deere 60G.
Yanmar Mini Excavators
Yanmar makes a quality excavator. Known widely for making the first diesel powered compact excavator. They currently offer 7 different mini ex models including SV08-1D, ViO17-A, ViO25-6A, ViO35-6A, SV40, ViO50-6A, and ViO55-6A. These machines are know to conserve fuel while still giving you the power to get the job done.
The Future of Compact Excavators
The role of the compact excavator will not change in the future as far as working in tight spaces in residential applications. However there will be changes to the compact excavator in terms of zero exhaust emissions. The brands above will work hard to bring down carbon emissions by either making there machines hybrid by using gas or diesel in combination with battery powered. We could also see where operators may not even be operating the equipment from inside the cab. It could be being operated remotely similar to how the US Airforce uses drones. However, personally I do not see that happening or wish it to happen anytime soon. Also look for new attachments to come out in the future for these compact machines. Attachments solve problems. And I am sure there is an operator out there right now experiencing a problem thinking of a revolutionary attachment that will change the industry!