From Steel Plow to Tractor: A History of John Deere and His Company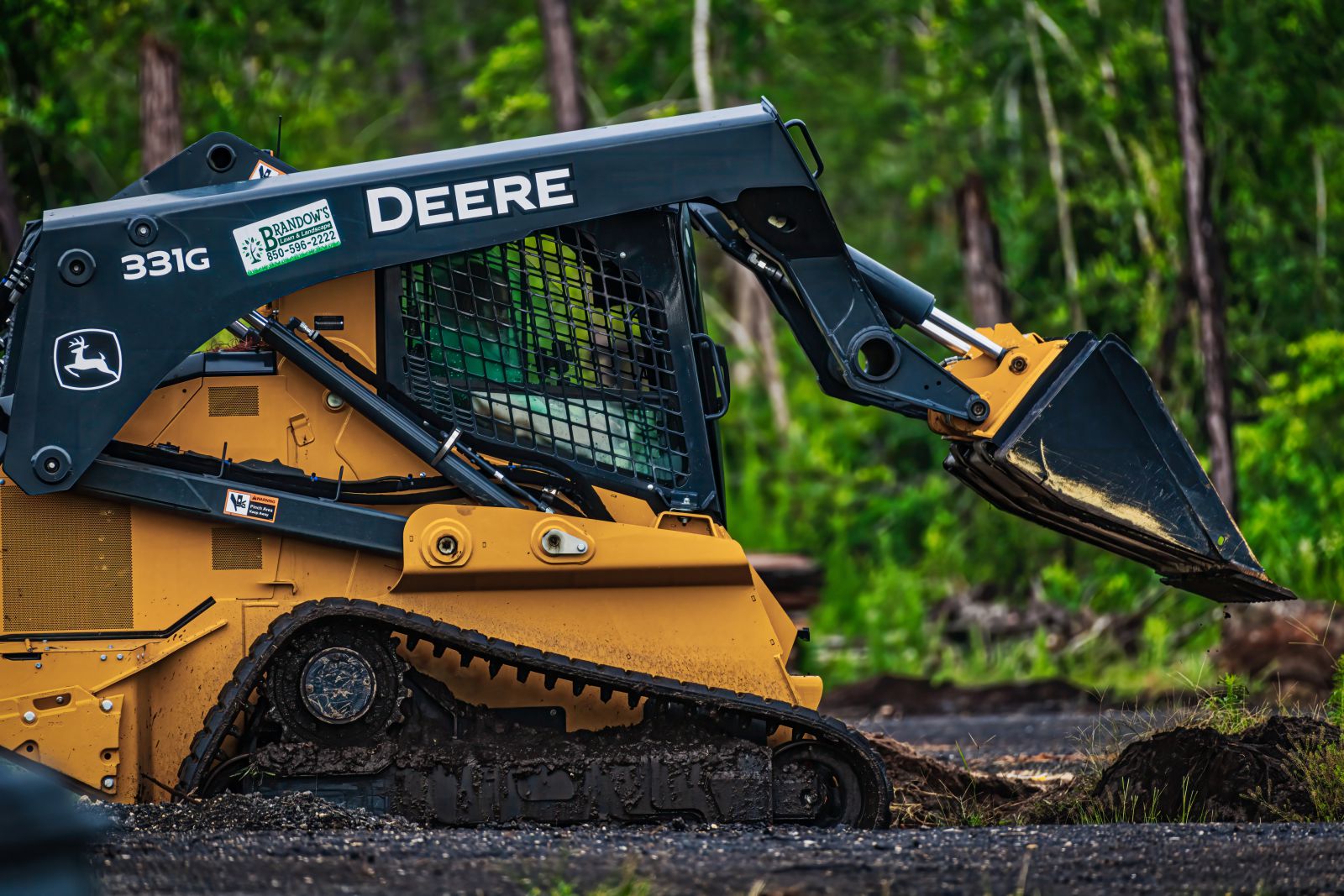 We all are familiar with the famous brand called John Deere. This name immediately brings to mind the famous logo with the yellow deer portrayed on a green background. It also evokes the visions of many pieces of, such as John Deere tractors, skid steers, or track loaders. However, not many know that this powerful company's history started with a blacksmith and the steel plow. Let us introduce you to the gripping story behind John Deere's company's great success. 
Who Was John Deere? 
A simple answer to the above question would be the founder of John Deere's company. However, John wasn't an ordinary man. Thanks to his vision and achievements, today, we can buy prestigious pieces of machinery manufactured to the highest standard. 
In 1804, in Rutland, Vermont, Sarah Yates Deere gave birth to John. Little did she know that her tiny at the time son would become the founder of a worldwide known American machinery manufacturing giant. 
John quickly realized that the career of an academic is not his destiny. With limited financial opportunities caused by John's father's premature death at sea, the young boy turned to manual labor.  
In 1821, as soon as he turned 17, John began an apprenticeship at blacksmith's shop. Five years later, he decided it was high time to enter the trade himself. Firstly, he worked in Burlington, then opened shops in Vergennes and Leicester. Lastly, John moved to Grand Detour where his career breakthrough was about to happen. 
The Great Development of Self-Scouring Steel Plow 
John had his hands full. At the time, the market needed experienced and skilled blacksmiths. However, his busy schedule didn't deprive John of time to turn his ideas into reality. John noticed that iron plows used in agriculture did not perform well in tough soil. That was uncomfortable for the farmers, who often had to stop their work and clean the piece of equipment. John believed that correctly shaped polished steel would fix the problem. He used a broken sawblade to test that theory. 
Rumor has it that hundreds of farmers witnessed the test that happened in 1827. They desperately needed a solution to the mystery of successful plowing in sticky prairie soil. Other sources claim that it was a local farmer, Lewis Crandall, who, in 1838, purchased the very first Deere's steel plow and spread the word about the invention. One thing is certain -the invention became so popular that by the end of 1841, Deere was manufacturing plows in hundreds. 
This is how the success of John Deere started. He didn't know it yet, but the plows would become the identity of his business. 
Partnership Hardships and Relocation 
To satisfy the constantly growing demand for magic plows, in 1843, John entered into a partnership with Leonard Andrus. The gentlemen purchased the land to build a two-story factory and called their joint company the L. Andrus Plough Manufacturer. However, the relationship between the two gentlemen could only be called 'partnership' on paper. 
The partners didn't see eye to eye in many aspects. Firstly, Deere wanted to expand the business beyond the borders of Grand Detour. Andrus had objections to building a railroad leading through Grand Detour. It made Deere realize that perhaps a little village that lacked the appropriate infrastructure for development is not the right place for his flourishing business. What is more, Deere was also distrustful of Andrus's accounting practices. 
Even though the gentlemen were not fond of each other (business-wise), the company developed quickly. The tremendous success of the invention soon resulted in the production levels of more than 1000 plows per year. 
In 1847, Deere decided to leave Grand Detour and move the business headquarters. He also decided to say goodbye to Andrus as his partner. Deere sold his interest in the shop and moved. He wanted his prospering business to be in a place enabling constant growth. Such a perfect place seemed to be Moline in Illinois. The Mississippi River constituted a source of water needed to run the extensive factory. The river could also be used for convenient deliveries and dispatch of plows. 
Not Just Any Steel Plows 
The new start for John Deere turned out to be a sound choice. A new partnership with Robert Tate and John Gould, formed in 1848, was also beneficial. A new 1440 sq. ft factory could produce even 200 plows per month. They began to import English steel and had a steel plate especially designed by Pittsburgh manufacturers.  
While Deere turned his ideas into reality, he had one rule in mind, which he once clearly articulated:  
"I will never put my name on a product that does not have in it the best that is in me."
The constant strive for perfection and improvements in his produce quality astounded many of John's associates. They didn't understand why Deere wanted to deliver such high quality for farmers. Deere believed that there could always be someone who provided better quality and that his company could lose business. The key was not to let it happen. 
By 1857 the production of plows had risen to 10,000. Unfortunately, even the high-quality equipment couldn't ensure the business's success in the face of the recession that shook the nation in 1858. Bankruptcy was unavoidable unless John sold his interests. And so he did. 
The New Owner with a Familiar Last Name 
John Deere was invested not only in the development of his business but also in the upbringing of his true-born child, Charles. Deere provided the best education to Charles, who attended the most prominent schools in Moline, Iowa, and Illinois. Deere also assured the young boy gets invaluable hands-on work experience. He made 16-year-old Charles Deere the company's bookkeeper. 
All the above led to the only viable step John could take in the face of a crisis. In 1858, Charles Deere bought his father's interests and took over the John Deere company. In 1863 John also entered a partnership with his son-in-law, and five years later, the company was incorporated as Deere & Company. Even though John Deere didn't run the business anymore, he stayed its President until he died in 1886. 
The Era of 'Deere Junior' and the First John Deere Tractors 
Charles was well prepared for the role of entrepreneur and turned out to be a great businessman. Deere & Company flourished under his management and started to diversify. The production lines included not only steel plows but also various types of equipment such as planters, cultivators, wagons, and other agricultural products. However, these still didn't include tractors. Even though 1888 brought the popularity of steam tractors. However, the Deere company didn't see the potential in producing steam machines yet and started manufacturing bikes instead! 
Charles Deere ran the enterprise for 49 years until his death in 1907. That year, William Butterworth became the third President of John Deere's company. Under his management, in 1918, the business bought the Waterloo Gasoline Traction Engine Company and started developing the first John Deere tractor. John Deere Model D tractor was first released in 1923. It had a two-stroke cylinder kerosene-burning engine producing 15 horsepower at the drawbar and 22 at the belt. This model stayed in production for over 30 years! 
It was in 1928 when John Deere's company as we know it began to operate. The production accelerated as modern agriculture development boomed. Even the temporary Great Depression didn't stop the popularity of John Deere. The improvement works on Model A and B Tractors resulted in the first modern, attractive, comfortable, and user-friendly designs. 
World War II and Post-War Speedy Development 
Just when technology started to flourish, there came the time of WWII to wreak havoc on the economy. However, John Deere didn't capitulate in its fight for survival. The firm became a producer of ammunition, aircraft parts, cargo, military tractors, and mobile laundry units. 
The development phase of John Deere's firm brought further achievements: 
- 1949 brought the first two-engine tractor model, Model R, which took ten years of development, 
- diesel engines production started in 1949 - the first powered crop-specific tractor was the Model 70 from 1953, 
- engineering and product improvement works placed John Deere's company in the top 100 American businesses of 1955, 
- John Deere started its international expansion in 1956 by purchasing a plant in Mexico, 
- between 1955 and 1982, John Deere became the largest manufacturer of agriculture equipment in the world, 
- the 1990s focused on an international expansion that brought the company record profits. 
Conclusion 
Throughout the company's history, John Deere has manufactured over 5 million engines, and over 60% of them are still in use. There are five plants producing engines located in the USA, Mexico, Argentina, France, and India. There have been over 596 different tractor models manufactured by John Deere. The equipment is used in various industries, such as agriculture, forestry, construction, mining, marine, irrigation, on-highway and off-highway applications, and many more. The firm has over 4500 dealers in more than 30 countries and employs more than 70 000 people. In 2007 Ethisphere Magazine placed John Deere among World's Most Ethical Companies. 
The above are only a few of the most recent achievements of this top machinery manufacturer. Undoubtedly, John Deere won't stop for a second to wait for its competitors. After all, John was right to think that competition doesn't sleep. However, nowadays, very few companies compare to the enterprise that once was known as the producer of steel plows. 
Skidsteers.com carries a wide choice of John Deere products, including: 
- a range of tracks for compact track loaders, excavators, and over-the-tire skid steers tracks, 
- full line of John Deere skid steer attachments. 
We also carry an extensive line of John Deere skid steer tires produced by popular brands such as West Lake, TNT, Traxter, Galaxy, and Camso. Have a browse through various categories of John Deere products in our shop. Don't hesitate to contact us if you have any questions or need a piece of advice.