Learn About The Undercarriage Components Of Your Track Loader Skid Steer
Over the last year or so we received many phone calls from customers that an undercarriage part to the track assembly of their skid steer is cracked or warn. Many times the customer is confused about the name of the part and its function. Ive decided to do a blog post on the name and description of each part along with creating a diagram to show where each part is located. This should help in determining the part you need.
Undercarriage Diagram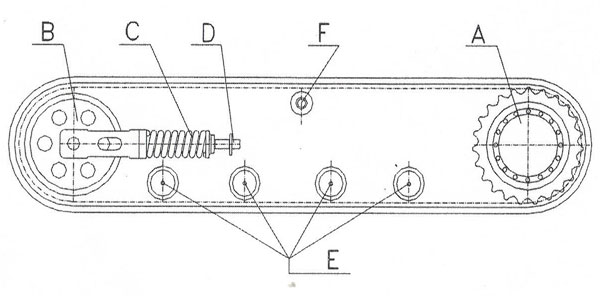 * The Sprocket (A): It is the cogwheel usually situated at the back of the undercarriage which pull the track. The number of teeth of the sprocket and its root diameter are important to choose the tight track type.
* The Idler (B): It is situated opposite the sprocket. The idler allows the track to be maintained at the right tension.
* The Idler Spring (C): It is designed to absorb the shocks and jolts of the machine. You only have to make sure that it is maintained in a good condition of work, meaning that is operational.
* The Track Tension Device (D): It is situated in line with the spring and the idler. This component of the undercarriage is essential because it allows for adjustment of the tension. Having a good tension can avoid lots of problems.
* The Track Rollers (E): The rollers are situated all along the undercarriage and support the weight of the machine and distribute it evenly on the track.
* The Upper Roller (F): This roller prevents the track from sagging.
If you are looking to purchase undercarriage track parts or need a new pair of skid steer rubber tracks please feel free to call customer service at 866-315-3134.