Skid steers - everything you need to know about skid steers, basic information and tips for buying a skid steer
What is a Skid Steer and What is it used for?
A skid steer is the work horse in the construction industry. When you drive by a most any jobsite you will typically see one in action. It is the "Swiss Army Knife" on any jobsite as it can hook up to well over 200 different attachments for jobs such as digging trenching, backfilling, angering holes, brush cutting and more, and more, and yes even more! Since its market debut, the skid steer has taken on many names. Names such as bobcat, skid loader, compact track loader and skidsteer.
The first skid steer was a wheeled machine. Later rubber tracks were introduced to the skid steer replacing the tires. Now referred to a compact track loader, this new rubber track style machine offers more traction in dirt and muddy conditions.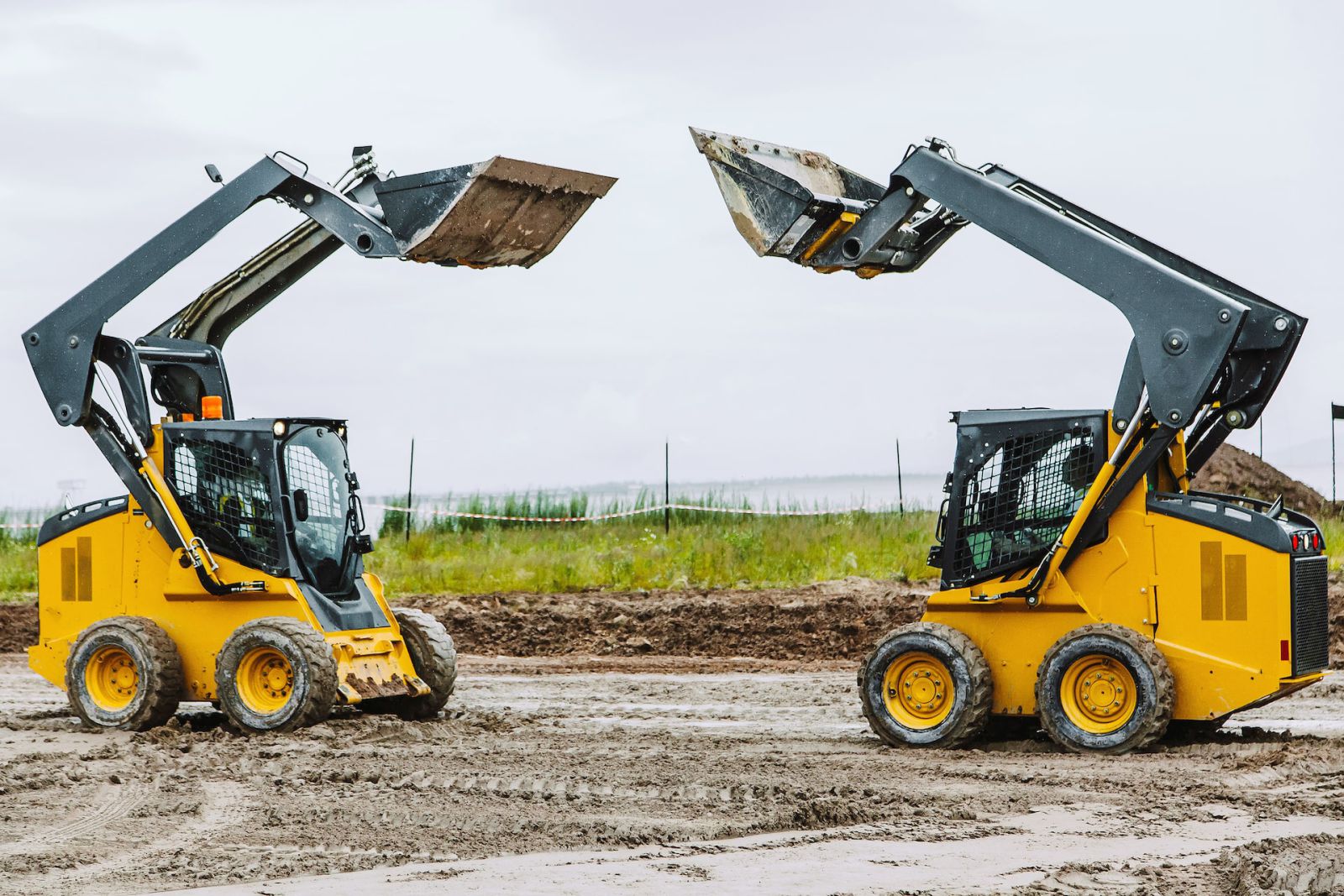 Even though these machines are compact in nature, they still are considered heavy equipment.
Which style of skid steer is better? A Compact Track Loader or Skid Steer Loaders Tires
This is a question I get often. Which would you from one of the many compact track loaders or a skid steer with tires? To me it depends on application. Here are some specific application where I would want one vs the other.
Skid steers for snow removal
Snow Removal - When removing snow from asphalt or concrete parking lots where traction and speed of removal are necessary, I would recommend a skid steer with tires. By simply adding skid steer snow tires such as Wolf Paw Snow Tires to your skid steer, you will get the traction, speed and performance to get the job done efficiently. You do not want floatation when snow plowing with your skid steer. You want ground pressure. Snow tires give you a narrower footprint while giving you a specific snow tread delivering excellent traction. Construction work in mud, dirt - When working around the job site in wet muddy conditions, track loaders such as a Caterpillar 299D or a Kubota SVL 75 would be the best style of skid steer to use around the jobsite. Application include grading, digging and hauling dirt and gravel around the jobsite. These machines offer great flotation along with excellent traction to push through muddy conditions. The will not sink down into the surface as easily as a skid steer with tires will.
Skid Steers for working on turf / lawn
Working on turf / lawn - When working on lawn or turf such as tree removal or landscaping, honestly this is a tossup as in most of these application traction is not an issue. In this case you do not want ruin the a customers lawn, so the less ground disturbance the better. A skid steer with tires, you can add turf tires to this unit as to not tear up or rut up the surface. Turf tires will give you good flotation while also allowing you to make turns while doing little harm to the grass. This same concept holds true with compact track loaders also. Specialty turf tracks can be adding to this piece of construction equipment for best result on turf. If you do not have the budget for these compact track loader rubber tracks, I would recommend using tracks with block treads. As far as OEM aftermarket rubber tracks are concerned, block tread offers the least ground disturbance over the OEM aftermarket C tread rubber tracks.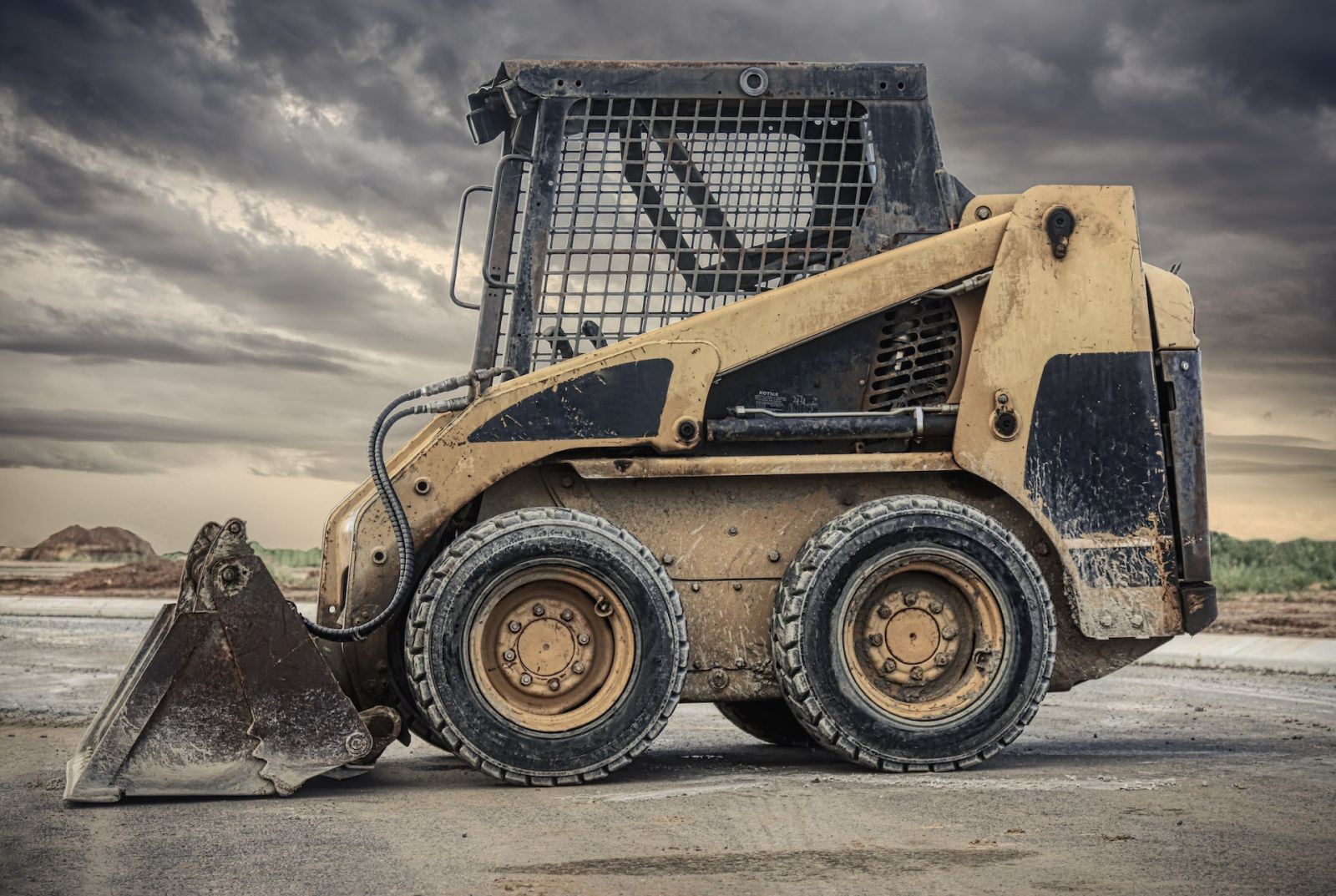 Skid Steers for forest work
Forestry Work - When running skid steer attachments such as drum mulchers, disc mulchers, brush cutters or other land clearing equipment a fully recommend using a compact track loader. This is very demanding work in all different terrains. You will need a machine with the most flotation and traction possible. You also cannot afford to blow out a tires in the middle of a wooded lot. A tracked skid steer loader will give you the best efficiency for this application. This will allow the operator to keep forging ahead in the toughest environments such as going over rocks, fallen trees or in damp muddy conditions.
Skid Steers for road works
Road Work - Typically when you drive past any roadway or highway construction site, you will see a equipment fleet of skid steer loaders with tires. This is because tire machines such as CAT model 226 will not only offer more speed on the concrete or asphalt but will also bring the maintenance cost down.
This is because asphalt and concrete wear rubber quicker than any other application. Tires will last much longer in these applications vs rubber tracks. Also, when it comes to replacing the tires, it is much less costly.
From and operators stand point, what are the differences between a Wheeled Skid Steer and a Compact Track Loader?
As you can see from the above explanations there are pros and cons to either machine. However a track loader machine will always have more break out force than a skid steer with tires. So any digging style attachment such as a bucket, stump bucket or dozer blade is best used with a track machine.
Maintenance is more costly with a track machine vs a tire machine. This is due to the undercarriage parts of a track loader. These parts drive the tracks and keep them inline. These parts typically need to be changed out every 2 years during normal construction use. Also, tracks are in general, more costly than tires.
As far as what either is equipped with from a cab stand point. All options are similar as far as electronics, heating and cooling. In fact the cabs really don't very much from the wheel loader style skid steer vs a track loader skid steer. Vertical lift capacity really does not differ based on which machine style. Both have lifting capacities based on the model of the machine.
Comfort?
9 out of 10 times a compact track machine will always have a smoother ride than a wheeled skid loader. Moving over rough terrain a wheeled machine will be a terrible ride and the machine will bounce around. This can take a toll on the body over time and can cause back and neck pain.
Which machine is better for a rental fleet?
As far as rental is concerned it just depends on your clientele. If possible, I would recommend both. However if I had to choose one or the other I would definitely go with a compact tracked machine. Reason being is it covers all varieties of applications and it allows you to add more attachments for rent. You will also be able to charge more per hour of use. Again, the only downside is maintenance. However with a good mechanic checking over the machine after each use, this should not be a problem.
What About High Flow Vs Low Flow Skid Steers
When deciding whether to purchase a compact skid steer with the optional high flow you must first consider what applications your purchasing the piece of equipment for and what attachment (s) you will want to run on the machine. The only reason to add high flow to a skidsteer is to run attachments with motors requiring high flow. These attachments include drum mulchers, brush cutters, disc mulchers, cold planers, and concrete cutters.
The upside to the high flow is it offers more flow, more pressure that in turn gives you more torque and power to run these demanding skid steer attachments. The downside of running in high flow is you must be aware of the temperature of your hydraulic fluid as it can heat up quickly in certain instances. For instance if running a disc mulcher in a hotter climate such as Florida or Texas, you may want to think about added a hydraulic cooler to your machine. This will not only save your machine from overheating but will also allow you to have more uptime in hotter weather.
In most cases standard flow will be used 90% of the time in normal applications. You will use standard flow for most attachments such as grapples, log splitters, 4 way buckets, rototillers, post drivers or any other attachment running just a cylinder.
This should give you enough information to decide which style of skid steer is right for you or your business. If you do have any other questions feel free to contact us.
What is my favorite brand of Skid Steer?
This is a very difficult question to articulate as everyone's opinion is different based on there experience with each brand. However here are my current top 5 rankings in skid steer brands:
Kubota
Bobcat
CAT
Case
John Deere
Why, in my opinion, is Kubota my number 1 choice when choosing a skid steer?
For starters, in my experience, uptime is the most important when it comes to any machine. The Kubota, specifically the SVL 95-2, has been a workhorse on the job. With just regular maintenance, this machine perform grueling task day in and day out without breaking down, throwing error codes or loosing any type of lift capacity. We have over 2400 hours on our machine and there is no drifting in the boom arms whatsoever. We use this compact track loader for grading, loading, brush cutting, and general excavating.
Typically, the Kubota mostly range on the higher end of capacity and horsepower in each class of machine. The weight lifting capacities generally are the same or higher as other skid steers in its class and flow rates GPM are mostly on the higher end of standard flow.
Besides uptime reliability and great performance, I guess the 2nd most important thing is cab comfort and ease of controls. I love the way the door slides from above the head with locking hinges. The cab is nice and roomy. Visibility is excellent. I can easily see what I'm working on. The pressurized cab does a great job in keeping the noise out. The heating and air-conditioning keeps the cab nice and comfortable all year long.
All the controls and buttons are very simple and can be quickly found. It does not take brain surgeon to operate this machine. This is also a safety factor for me. The easier it is to operate the more time my eyes can be on the job at hand.
What is the ideal horsepower?
To maximize the versatility of your skid steer you will generally want a machine that a minimum of 75 horsepower. This will generally give you enough power and torque to use most any skid steer attachment available. What's important about horsepower? Break out force! Break out force allows you to optimally use attachments such as a dozer blade attachment or tooth bucket attachment. Break out force allows the machine to dig deep into the surface without hesitation. 75 horsepower generally is enough power to effectively get the job done.
What is the future of skid steer loader
From what we are see in the passenger car and truck industry, we can expect to see the electrification of most construction equipment. We can expect to see AI and self driving and remote controlled excavators and skid steers. How soon, it is to early to tell. However with the decarbonization of everything it could be sooner than we think.